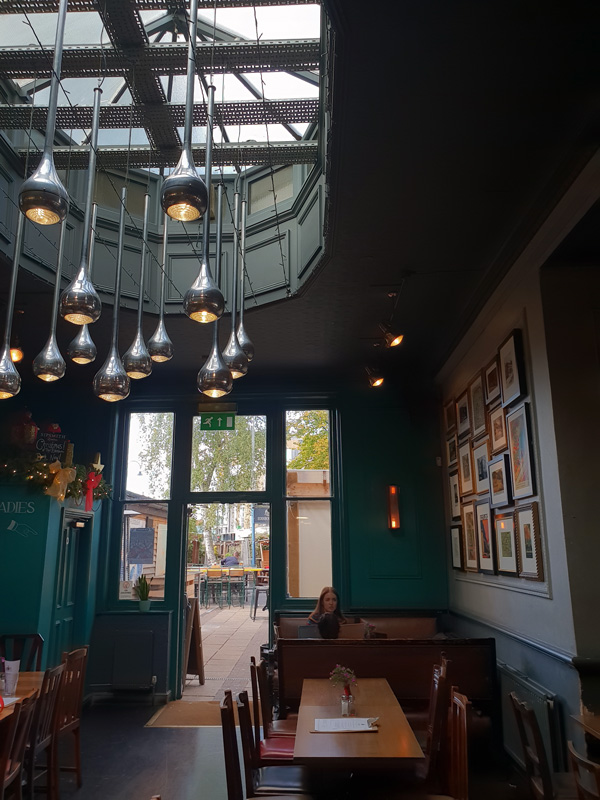 Today's search led me to a very welcoming gastropub – The Edinboro Castle.
Comfortably set between central Camden and Regent Park, it looks like it's worth the walk here.
I'm definitely here at a great timing, on a warm and sunny, late September afternoon. Even more, it Friday, so there's no wonder there are plenty of laughs from a happy crowd, that's slowly starting to fill the large courtyard terrace. There's a very chill mood to it, and the whole setup is contagious in making me smile just for being here.
Almost made me forget why I'm here, but I'm bringing myself back to the question:
Is this a place where healthy people would eat?
I'd lie if I were to say that I took a casual look through the menu on my arrival. I've studied it before coming here so I know that there are several options that would be interesting for any healthy living enthusiast.
Here are my picks for today:
Starter: Avocado Caprese with cherry tomato, mozzarella and dressed with lemon, basil & olive.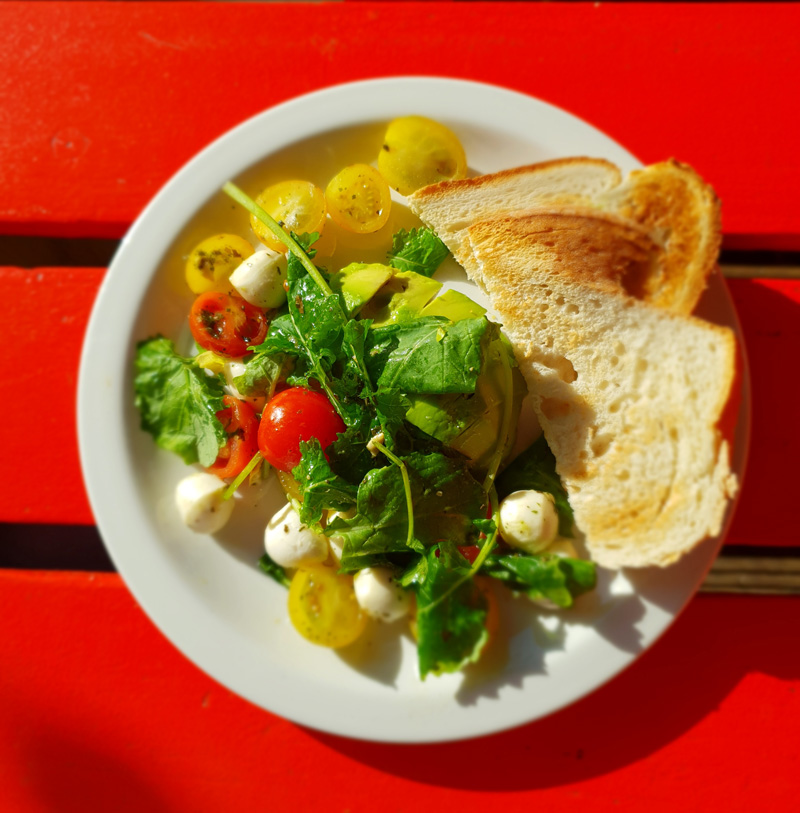 Roughly contains:
1/2 avocado
2 half toast slices
8 cherry tomatoes
8 mozzarella balls
salad leaves
olive oil, lemon, basil
The starter salad was surprisingly tasty, with an excellent touch given by the combination of basil and lemon. The seasoning really puts the main ingredients in perspective.
I also appreciated the use of cherry tomatoes and mini mozzarellas, that also bring in more flavour than we'd have with some larger tomatoes and cheese.
There's an excellent balance there, with plenty nutrients from the fresh produce, healthy avocado fats and a bit of protein from the mozzarella. The avocado on toast was delicious of-course but I steered away from eating all the bread, as I still had more carbs coming up on with the main dish.
Everything on the plate looked fresh, minimally altered and unprocessed.
Let's take a look at our macro-nutrient estimate for the starter
Carbs 28g – mostly from the bread
Fat 34g – from the mozzarella, avocado, olive oil
Protein 23g – mostly from the mozzarella
The dish is quite calorie rich but well balanced, fresh and nutritious.
Main : Asparagus & tomato risotto with pecorino and pumpkin seeds.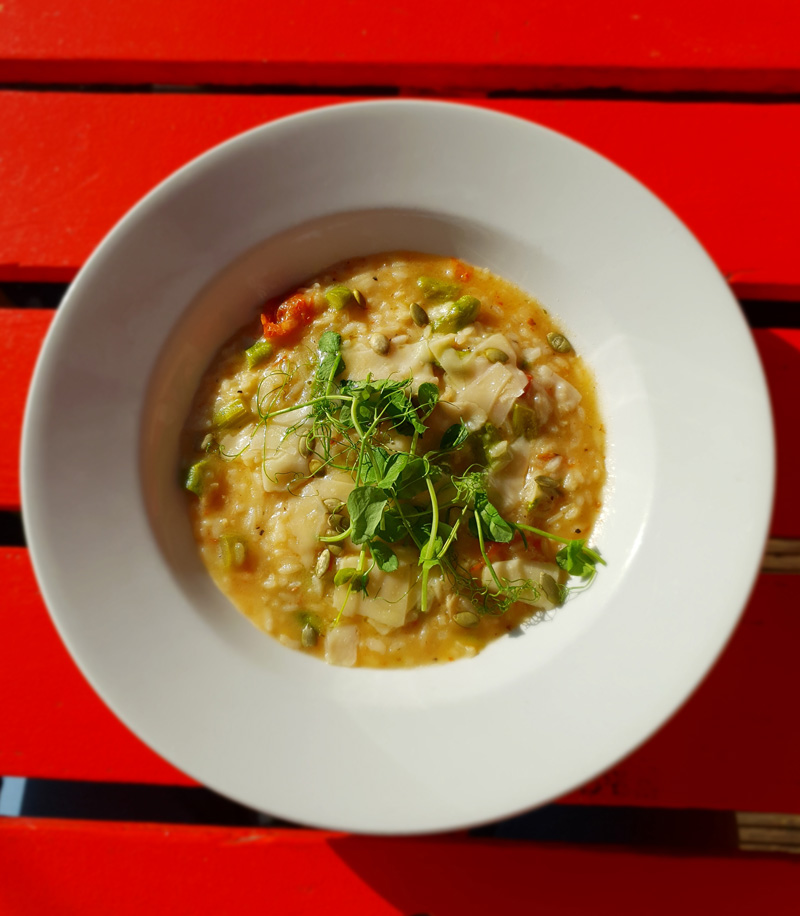 Roughly contains:
Risotto
Plenty of pecorino
3 halves of cherry tomatoes
Asparagus 2 sticks
A few pumpkin seeds
Fist thing I notice while trying the risotto is how the whole dish is infused with the combined taste of asparagus and tomatoes.
That's in part thanks to the use of sun-dried tomatoes. These seem to have captured some of the golden rays that fill the garden and sewn them in my plate. This great taste comes along with plenty of potassium, vitamin A and C, just to mention a few.
There's also a mix of condiments that I didn't know of at the start but they do seem to do their magic in making the risotto taste deliciously.
There's plenty pecorino to top-up the taste and give me a fair sensation of fullness.
Asparagus is a now well known delicacy and in this context it's leading a serious battle with the other savours. Nutrient-wise the asparagus is low in calories, rich in nutrients with plenty of fiber, folate and vitamins A, C and K.
Where the asparagus lacks in calories, the rice and the cheese make up for it and a bit more.
Carbs 40g – mostly from the risotto
Fat 23g – from the tasty pecorino
Protein 30g – mostly from the pecorino
For this dish most of the energy will come from the carbs, but we do get penty of fat and protein from the cheese specialty.
If I were to count the overall calories for my deliciously healthy meal, I'd start to doubt it. So I just won't do that and focus my attention on the nature of the food, the macro-nutrient balance and the fresh nutrients that I just had.
The Edinboro fed me a meal that filled not just my stomach but also set me up with the nutrients and carbs needed for tomorrow morning's workout.
I should be on my way, but there's people literally cheering 'it's Friday, it's Friday' and the sun is getting mellow. I won't be gone for long.