Today I had a nice eat-out lunch planned, to kick things in a positive start on the first day of the week. I make my Mondays better by giving myself something to look for, a treat.
After a bit of research, I'm set on visiting Locanda Canton – a traditional Italian restaurant, family owned and run. It's set in the heart of Camden, two minutes away from the high street, just enough to be away from the noise and commotion.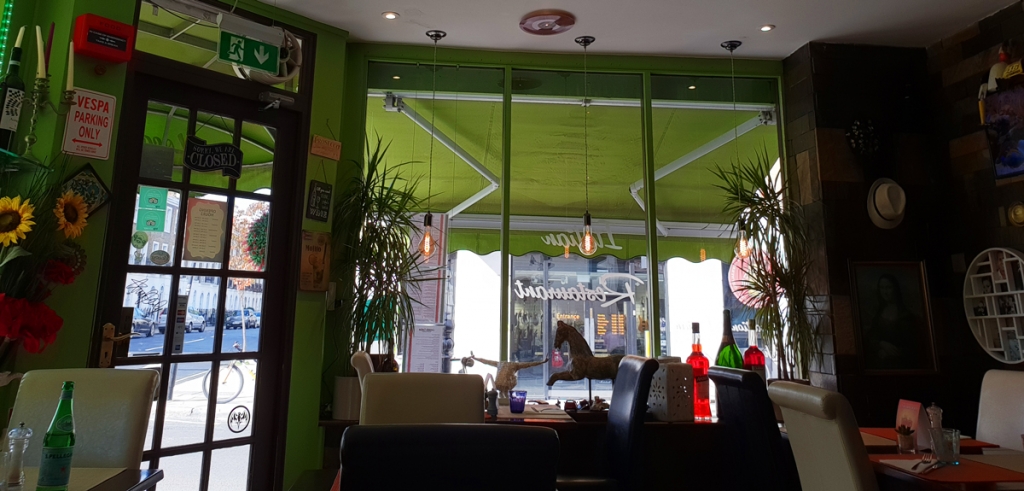 The place looks new, with a lot of heart and soul poured into it, to bring some of the Italian authenticity into the heart of London. I was later to find out that it is quite new, having been open for about one year at the time of my visit. Locanda Canton is also rather small, which makes me feel comfy and welcome. Perfect for my lunch plans – left to figure out if this is the kind of place where healthy people would eat.
While I'm browsing through the menu I'm thinking to get properly cooked food, the opposite of what I could normally get in a casserole at the office. So I set my eyes on a soup to start and a salmon al forno for main.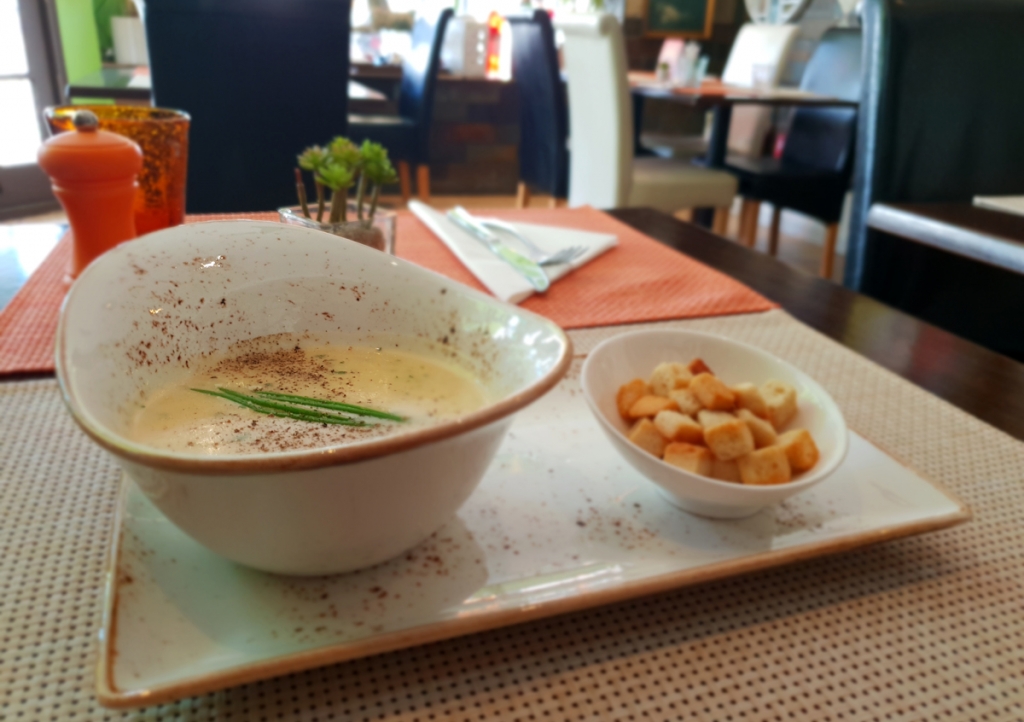 Starter Zuppa del Giorno (soup of the day) – Chicken soup
Roughly contains:
Plenty of cream,
Fresh parsley,
Fresh chives,
A bit of onion,
Chicken,
Croutons on the side.
Though my mission here is to tell you about healthy food discoveries, in this case I can't help but mention the looks of it. The plates look least to say interesting, they make me feel spoiled, in the best sense. I start by adding a generous round of freshly ground black pepper, that seems to blend right into the look of the soup bowl.
It looks delicious and so nicely decorated with fresh chives that I almost don't want to ruin it's looks.
Because of the sour cream, the soup may seem misleadingly fat, when in fact two tablespoons of the sour cream would contain only around 6% of my daily fat intake. On the other hand it provides great taste while being nutrient rich, to name a few:
Phosphorus – most abundant mineral in the body, approximately 85% is stored in the bones.
Vitamin A – essential for our eyesight, immune system, and optimal bone growth.
Riboflavin – essential especially for active individuals, because exercise stresses metabolic pathways that depend on riboflavin.
The soup contains just enough small chicken pieces, and is rendered extra tasty by a bit of onion and fresh by parsley and chives. I didn't really feel the need for croutons. I did use a few for their crispiness, but that's just a matter of taste.
It's hard to estimate the exact ingredients and quantities but my stomach says thank you and that's enough for now.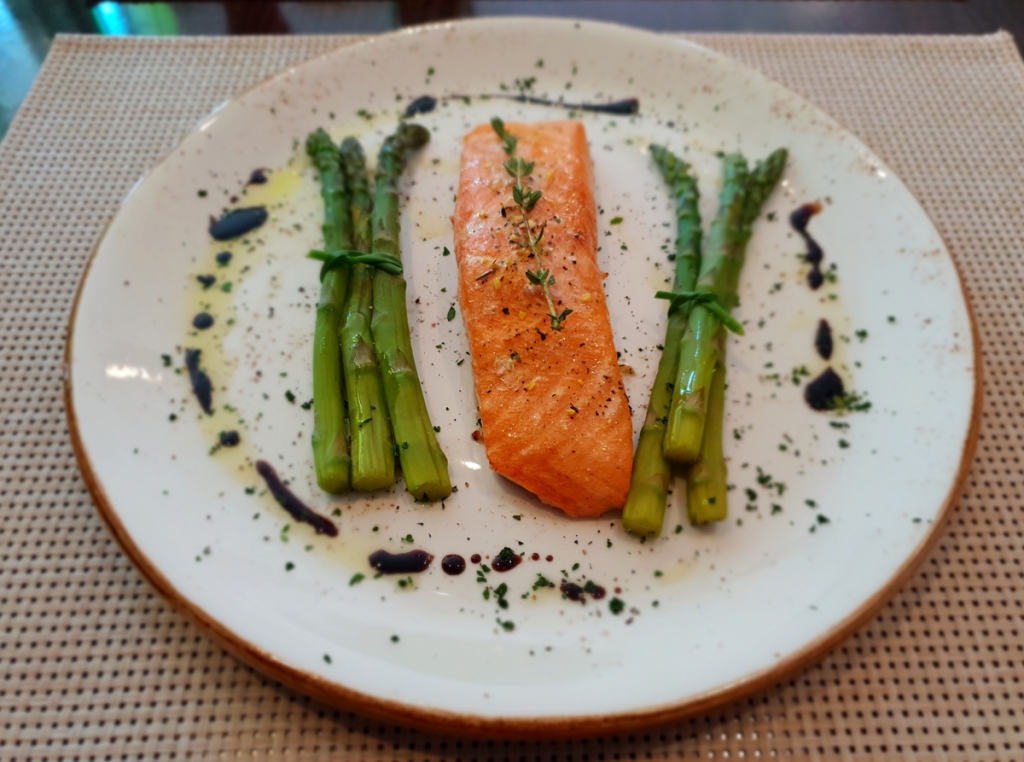 Main – Salmone al Forno – Oven baked salmon
Organic salmon baked with fresh herbs, extra virgin olive oil served with a side.
Side – Asparagi – Steamed green asparagus
Again I cannot help but start by mentioning the plate and great looks of the dish. It says nothing about it's nutritious properties but if our minds play such a powerful role in our health, the way our food looks must have an effect. In this case it's all positive and gets my salivary glands going insane.
I have in front of me a perfectly cooked piece of organic salmon, framed on each side by fresh bundles or asparagus tied up in tiny bows of chives. Delicious!
There's also a balsamic glazing decorating the plate, and as tempting as it may be I'd best ignore it and it's sugary content.
There's also plenty of olive oil trails, that's I'm going to follow with each asparagus piece, and acknowledge it's proper Italian origins.
The asparagus has been cooked just a bit, just enough so I can fell all the nutrients still there, green and lively. There have been volumes written about the nutritional benefits of asparagus. It's rich in vitamin K, A and C, folate and copper, low in calories, high in fiber, great for digestion, natural diuretic and the list goes on.
The salmon is also cooked just enough to maintain it's nutrients high, and keep up with its impressive health benefits. Salmon's most praised nutrients are the Omega-3 fatty acids that increase cell membrane fluidity, helping inhibit inflammation, can improve fat metabolism and reduce your body's production of triglycerides. Overall it's a great source of healthy-fats and because the one I'm having is also organic, I can find no downsides whatsoever. The Food and Drug Administration (FDA) even found that salmon is among the types of fish that could provide a child with an additional 3.2 IQ points by age 9 if consumed during pregnancy. A bit too late, but one can only hope.
Locanda Canton was a great fit for my healthy-treat lunch, and I can confidently say it would have been just as great for a special dinner, or long brunch on the weekend. Its classic Italian menu, would satisfy many tastes and offer options for a proper Mediterranean diet when eating out.