We've opened the first virtual space dedicated to nutrition, diet and lifestyle consulting services:
NutriStandard Marketplace
. We are currently looking for the best nutritionists, eager to work online and offline, to help as many people as possible achieve their goal of feeling comfortable in their own skin.
What is the NutriStandard Marketplace?
NutriStandard Marketplace is the place where you can offer your consulting services to those seeking nutritional advice. Basically, through our Marketplace you have access to new clients, while we take care of the marketing, billing and offer you a wide range of online instruments that can help you enhance your activity. You just have to bring your expertise, professionalism and desire to help people reach their nutritional goals.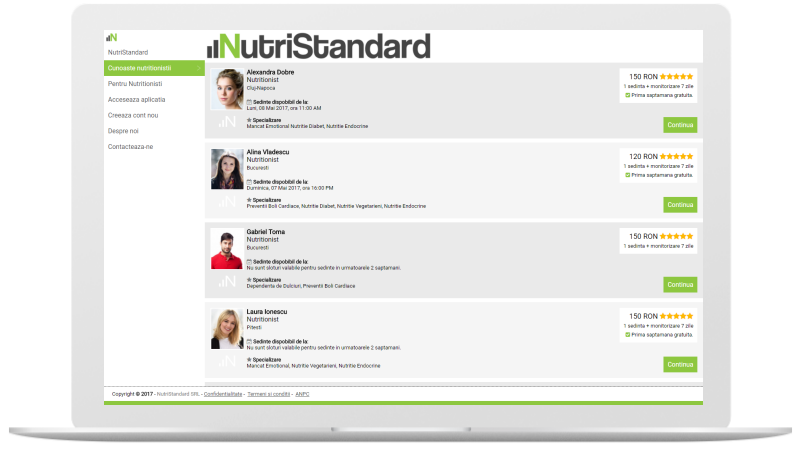 3 reasons why you need to join NutriStandard Marketplace:
1. You have effortless access to new clients.
2. The online environment is becoming an important communication channel for nutrition consultancy services, which brings added value and increase the quality of your services.
3. Flexibility – you choose how much you want to work based on your availability: from a couple of hours per week to a full-time program.
Steps to follow in order to join the NutriStandard Marketplace:
1. Sign up on the NutriStandard platform
2. Complete your profile
3. We will contact you asking for documents that certify you as a specialist able to provide nutrition, died, lifestyle consulting services
4. Validate your credentials and sign the collaboration agreement
5. You start receiving customers
Services offered to nutritionists
NutriStandard provides both free and paid services to its collaborators as follows:
1. For your existing clients, you have free access to all the facilities offered by the NutriStandard platform: chat, food journal, appointments, tools for nutritional values and body indices. You can use the complete NutriStandard platform for free with your own clients.
2. For the clients contracted through NutriStandard Marketplace, a fee is charged according to the contractual agreement with NutriStandard.
Join NOW to be among the first nutritionists in NutriStandard Marketplace.